Introduction
In an age where digital transformation is reshaping industries and networks must adapt to an ever-evolving landscape, Software-Defined Networking (SDN) has emerged as a transformative paradigm. SDN represents a fundamental shift in the way networks are designed, managed, and operated. This article takes a deep dive into SDN, examining its key concepts, benefits, and real-world applications.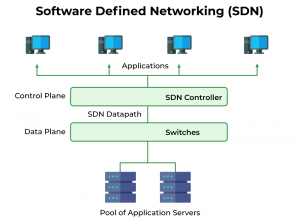 Understanding Software-Defined Networking
Traditional networking relies on hardware-based routers and switches with embedded software to manage traffic. SDN, on the other hand, decouples the control plane from the data plane, allowing for centralized control and programmability. Key components of SDN include:
Controller: The central brain of the SDN network, it manages and directs traffic based on network policies and application requirements.
Southbound APIs: These interfaces connect the controller to network devices, enabling communication and configuration.
Northbound APIs: These interfaces allow applications and network services to communicate with the SDN controller, enabling automation and customization.
Benefits of SDN
SDN offers a myriad of advantages, revolutionizing the way networks are built and operated:
Flexibility and Agility: SDN enables rapid network provisioning and changes, allowing organizations to adapt to evolving needs quickly.
Centralized Control: With a centralized controller, network-wide policies and configurations can be managed from a single point, simplifying administration.
Improved Scalability: SDN's programmable nature makes it easier to scale network resources up or down as required.
Enhanced Security: Security policies can be consistently applied across the network, reducing vulnerabilities and improving threat detection.
Traffic Optimization: SDN can dynamically optimize traffic routing and prioritization, improving application performance.
Cost Savings: By virtualizing network functions and reducing reliance on specialized hardware, SDN can lower hardware and operational costs.
Real-World Applications of SDN
SDN's impact extends across various domains, including:
Data Centers: SDN simplifies data center network management, enabling cloud providers to deliver on-demand resources.
Wide Area Networks (WANs): SD-WAN solutions leverage SDN to optimize connectivity, prioritize critical traffic, and reduce latency.
Network Function Virtualization (NFV): SDN is integral to NFV, which virtualizes network functions like firewalls, load balancers, and routers.
5G Networks: SDN plays a critical role in the management and orchestration of 5G networks, ensuring efficient resource utilization.
IoT: SDN can enhance IoT network management by providing centralized control over a vast number of devices.
Challenges and Considerations
While SDN offers numerous benefits, it also presents challenges:
Complexity: Implementing SDN can be complex, requiring a skilled workforce and careful planning.
Security: Centralized control presents a single point of failure and potential security risks.
Interoperability: Ensuring compatibility between SDN components and existing infrastructure can be challenging.
Vendor Lock-In: Organizations may become dependent on specific SDN vendors, limiting flexibility.
Conclusion
Software-Defined Networking represents a pivotal moment in the evolution of network architecture. Its ability to centralize control, enhance agility, and improve network efficiency has made it a game-changer across various industries. As businesses continue to digitize and demand more from their networks, SDN is poised to play an even more significant role in shaping the future of connectivity and network management. Embracing SDN may be the key to staying competitive in our increasingly connected world.